Notes on the Garden, 2016
I started the garden two weeks later than usual – just barely planting my front bed today, and I have yet to plant the vegetable garden. That trip to Hawaii really threw me off. But I did get the back bed planted with my sunflowers and zinnias before I left.
So, today I planted the flower bed in front.
I put in Lupine Gallery Mix (2 red/pink and 1 blue):
My only concern with these is that I bought them last Friday, but didn't have a chance to get them into the ground until today. And by today they were looking mo' wilty! My initial reaction was to put water on them, which I did, but they didn't perk up (all afternoon while I was out planting). I came in and researched this a little more and it says they don't like over-watering. And since we've had quite a bit of rain in addition to the sprinklers on, and they were in those little pots, they probably weren't very happy. I think now that they're in the ground in my sandy soil they will do better. I've grown Lupine before (not this variety) and it did great, so I think it will be okay.
UPDATE: It's now the next morning, bright and early. And I can see that even though it rained off and on all afternoon and night, and the ground is still wet from rain, one of the Lupines has perked right up and looks great. The other two are still looking sad, but I think they will soon follow suit.
I also put in "Sweet Alyssum" bordering the path to the front door.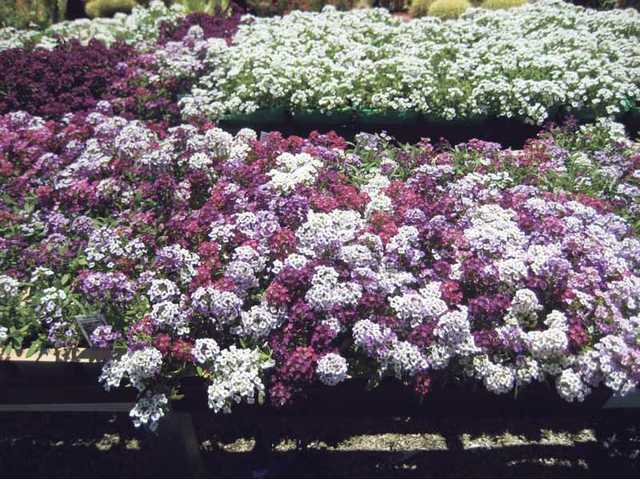 I've never put in Alyssum before. It's always felt very underwheming to me as a garden plant, though I know a lot of people who love it. I thought I'd give it a try this year and see how it does.
I also put in your standard Petunias.
I was at Smiths last week (again, on Friday) after Mother's day, and they had flats on sale for $7.99 — that's the cheapest I've ever seen a flat of Petunias – ever! Last year I didn't fill the flowers in very close (maybe 10 inches between) and they never filled in well. I didn't like it! So this year I bought 5 flats, thinking better to have too many than not enough. It was the perfect amount. I was able to space them 4-6″ apart, and they'll fill in beautifully over the summer. Also, the flats at Smiths have some pretty tiny plants in them. That might be why they were so inexpensive. Maybe it will be worth it to buy more expensive flats . . . someday. But for now this budget friendly size will have to do. Also, they only had one variety of petunias on that sale – "Dreams Mix" – again, someday when I can spend money willy-nilly, I might buy more expensive petunias and be more picky about the colors and stuff. For now, this will work!
I also put in two white African Daisies
The plants have holly-like leaves that might be a little pokey when the plant gets bigger. All the pictures I see on the internet the flowers have purple centers, but mine don't. They look like a typical daisy. They're supposed to grow a bit bigger and bushier than what I put in (1/2 gallon size-ish). I hope so! I got them at Home Depot.
I also put in 2 blue salvia.
I got a blue salvia years ago . . . I don't even remember where it came from, it's been so long now. It grew and grew and grew until years ago I divided it in half. Those two halves grew and grew and grew. The one by the aspen tree to the left of the front door was out of the way and just fine (that was the original plant) but the transplant was in the middle of the front garden, and needed to be split to create better balance.
Well, against my better judgement I listened to the advice of a neighbor and split and transplanted it at the end of June (I KNEW BETTER! I EVEN TOLD THE NEIGHBOR I DIDN'T THINK IT WOULD SURVIVE!) But my garden insecurities got the better of me and I listened and split it. It died promptly.
So this year I bought two little Salvia's and put them where I intended them last year. They're just babies, but I have enough experience with these guys to know that they'll grow 😀 Also, it taught me that I now know enough about gardening to listen to my own intuition and not worry about others as much.
Of course, I always like the lime-green potato vine. I think it creates beautiful contrast to the purples and pinks of the petunias. I put 5 in through out the garden.
Last but not least, coneflower:
I looked for about 3 years before finally finding coneflower at Smith's last year. I bought one and put it in, and it did great and looked great. It's a perenial around these parts, but when I was tearing out the garden last fall, I lost my senses and pulled it out! After all those years of looking for one!
So this year I decided to add a couple to garden. I'm going to put them between the yellow daisies-"Rudbekia" and the white african daisies, and the zinnias that have reseeded themselves from last year.
OTHER FLOWERS THAT ARE ALREADY THERE IN THE FRONT BED:
My african lilies that I planted from Bulb about 7-8 years ago. They'll come up. Also, the Rudbekia, and the marigolds reseeded themselves and at first I was going to pull them, but I decided to leave them by the rock. And the zinnias have reseeded as well, and I'm letting them come up in a few spots.
This is a corner of my front bed from last summer, with the rudbekiah, marigolds, zinnias potato vine, and coneflower.